Mission Statement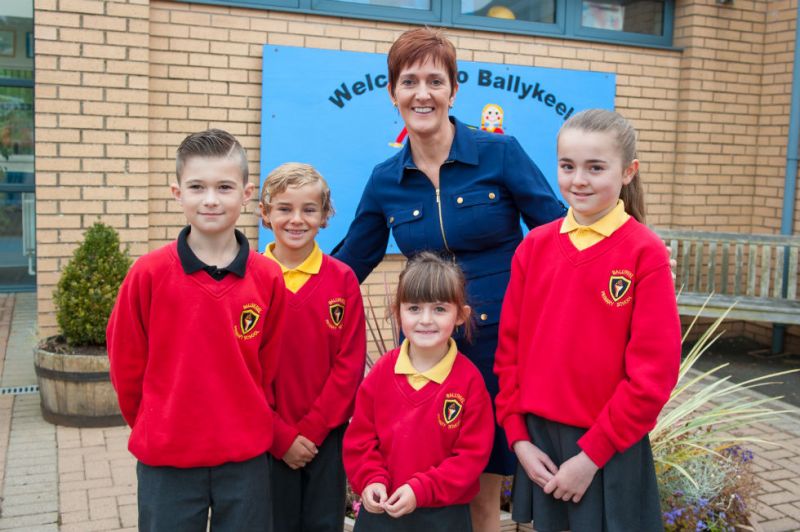 School Motto
'Educate, Enrich, Inspire'
Our Vision
We aim to be an outstanding school, at the heart of the Ballykeel community, that continually strives for excellence by providing a rich, broad and balanced education which meets all our children's needs, interests and aspirations.
School Mission Statement
We envisage achieving our vision by creating an environment which is child centred and where pupils feel secure, valued and cared for. Through high quality, creative and forward – thinking teaching we aim to educate and inspire every child to reach their full potential and offer them a wide range of enriched opportunities for their personal development and well-being. Ultimately, we wish to enable all our children to confidently transfer to secondary school and help to equip them to achieve happiness, success and fulfilment in adult life.
School Aims
Our aims are outlined by means of an acrostic, using the first word of our school motto, 'EDUCATE' - the core business of Ballykeel Primary and Nursery Unit.
Educate – provide a broad, balanced and stimulating education to all our children that fulfils the requirements of the Northern Ireland curriculum
Develop – help develop each child to their full potential, through a range of moral, spiritual, intellectual, social, physical, cultural and aesthetic experiences
Unite – create a friendly, warm and united learning community where children feel safe, happy and secure in an atmosphere of positive discipline
Community – foster, value and encourage effective partnerships between school, parents, families and the community
Achieve – ensure that sustained improvement is achieved through continual self-evaluation and self-assessment
Teachers – help each child reach their full potential, particularly by securing fundamental skills in Reading, Writing and Mathematics, through the delivery of high-quality teaching provided by an enthusiastic, highly motivated and reflective staff
Esteem – encourage pupils to develop their self-esteem and confidence through a range of enriching experiences that improve their independence, thinking skills, initiative, determination and motivation
The School Ethos
In Ballykeel, all staff are highly committed to the care and well-being of each child, have a deep sense of pride in our school and community, and work together to create a happy, collegiate and supportive team. The professionalism, hard work and unique talents of each member of staff help contribute to the holistic development of all the children entrusted to our care. We seek to celebrate and reward the successes of every child and instil in them a love for learning. We are a welcoming and inclusive school and our identity is demonstrated through the promotion of the Christian values of respect, tolerance, kindness, truthfulness, forgiveness, friendship, responsibility, trust and perseverance. With the aim of inspiring everyone to become a lifelong learner, pupils and teachers are encouraged to embrace all the positive opportunities and challenges that the school and local community provide.
Ballykeel Primary School & Nursery Unit, 22 Crebilly Road Ballymena BT42 4DN 028 2565 3902