Year 7
Welcome to our P7 page!!
There are two P7 classes in Ballykeel Primary in 2020/2021 year. The P7 teachers are Mrs Gregg (P7SG) and Mr Hughes (P7JH). Each class will have a designated Classroom Assistant; Miss Bamber (P7JH) & Miss Glover (P7SG).
We hope that this page will give you a flavour of life in P7.
We're sure that you can't believe that your child is about to begin their final year at Ballykeel Primary School. Over the course of the year they will participate in lots of activities and routines to develop an independence for their own learning and preparations for school. We trust that you would also encourage greater responsibility at home too.
April - June
We've reached our final term in Primary 7, and it promises to be the busiest one yet!!
Topics this term:
Our new theme in World Around Us will be Rainforests. We will be doing some map work to find out where the Rainforests are, and research to find out about the Rainforest layers, climate, animals and plant life. We will also look at how the Rainforests are being destroyed and try to persuade people to save them. A new Google Classroom will be opened to help us learn about the Rainforests and share what we have found.
In Maths, we will also be looking at averages, percentages, data handling and using calculators. As always, we will be revising tables and number bonds. In English, we will be looking at different word types and different types of sentences. We will also be learning how to use punctuation like : ; , - properly. As part of our Rainforest topic we will be creating a Conservation Advertisement using persuasive writing. We will also be writing different types of poems this term.
This term we will be finding out what schools we will be going to, visiting them and meeting the teachers. We will also take part in a Transition Project with our Family Worker, where we will be discussing all the changes that lie ahead, how we feel about them and how we can feel a bit better about any worries we might have.
Your child will receive confirmation of their post-primary school on Saturday 19th June. You can log onto the the EA portal to find this out. Your child's new school may also send out a new admissions pack. P7s would normally visit their new schools in June, but this may be different this year due to COVID-19 restrictions. You will receive more information arrangements in your confirmation letter.
End of Year arrangements will be different this year, and we will keep you informed as these are made and confirmed.
November - December
This term will be a busy one for some of our children as they continue to prepare for January's Transfer Tests. All of our pupils have been working hard this term. We encourage them to revise what they have learned at home and to make use of our Homework Help website and the Transfer Tutor website.
Normally our local secondary and grammar schools would have Open Mornings/Nights in January but this year may be different. Please keep an eye on this page for details about open nights as we receive them.
Topics this term:
We are finding out more about Space this term, from planets and stars to the space race and moon landings. If you have anything at home related to our topic, please share it with your child. Keep watching the night sky for constellations and any visible planets.
We will be introducing VCOP strategies to improve our writing, and will produce an Infograph based on the Apollo 11 Moon landing as well as some Winter poetry. In maths we will be looking at problem solving strategies and applying these to solve number and weight problems. We will also be looking at fractions, decimals and percentages.
August - October
This term will be a busy one for some of our children as they will sit their Transfer Test during Term 1. All our local secondary and grammar schools will hopefully have Open Mornings/Nights in January so please keep an eye on this page for dates and for links to the criteria for each schools as it is published. It's important that you plan to attend these open nights as it will give your child an idea of what goes on in these various schools!
Topics this term:
The P7s will be boldly going where no one has gone before! We will be finding out about Space this term, from planets and stars to the space race and moon landings. If you have anything at home related to our topic, please encourage your child in their learning by sharing it with them.
In Literacy, we will spend time revising our grammar & punctuation. We will be introducing strategies to improve our writing. During creative writing we will be looking at structuring paragraphs with the aim of composing a piece of recount writing based on our topic. We will also write shorter pieces, including poetry, to help us to draft, edit and improve with increasing independence. In maths we will be looking at Place Value, revision of basic maths facts and operations, mental maths strategies and problem solving strategies to help with Maths Investigations.
Please take time to revise table facts and number bonds with your child, to help benefit their number recall.
School Supplies & Information
This is a very different start to a school year as you are well aware. Your child should have the following items with them in school. These will stay in school throughout the year.
HB Pencils
Rubber
Sharpener
30cm ruler
Pritt stick (not coloured)
Biro pens for marking (blue, black, red or green) – no gel pens please
Set of Colouring pencils
Please also send in a pump soap and a box of tissues for the classroom.
Your child can also have their own bottle of hand sanitiser, which will stay at their desk. You may send a small tube of moisturiser if needed.
Homework
Homework is an important part of your child's development and helps to reinforce the learning that has taken place during the school day.
Each night your child will receive reading, spellings and mental maths / table facts. Along with this, your child will also receive a written literacy homework on Monday night and a written numeracy homework on Wednesday night. This written work will cover aspects of literacy or numeracy covered in class during the day, or revisit learning that has already taken place in the earlier part of the week.
How can I help my child with homework?
Helping your child with their homework is a valued experience in their learning as it will help motivate and encourage them to continue to work at their best. There are a number of ways that this can be done; here are some suggestions:
Listen to them read / ask them some questions about their reading book
Ask them their spellings
Go through their maths facts
Ask them some questions about what they learned today
Check that their homework is completed and signed
You can help your child to revise topics at home by using online games and websites. We recommend that you download the Overdrive App from Libraries NI so that you can 'borrow' e-books and audio books. They have a great selection.
The BBC Bitesize Website is also great for revising, and YouTube has lots of helpful videos. Just search for the topic you are after.
Keep revising table facts and number bonds, as this will improve speed of recall,
Whilst these are simple things, they will make all the difference to your child's learning.
Hopefully this page will you a greater insight into P7 life. We hope you have enjoyed looking through it. Come back soon and see what else we have been getting up to as the term continues.
Mrs Gregg & Mr Hughes
Latest Photographs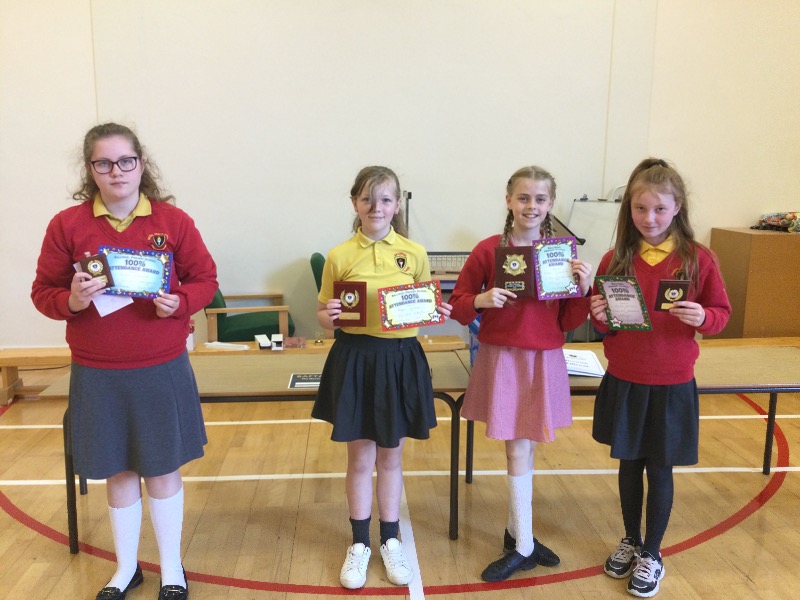 Ballykeel Primary School & Nursery Unit, 22 Crebilly Road Ballymena BT42 4DN 028 2565 3902