Year 7
Welcome to our P7 page!!
There are two P7 classes in Ballykeel Primary in 2018/2017 year. The P7 teachers are Mrs Gregg (P7SG) and Mr Hughes (P7JH).
We hope that this page will give you a flavour of life in P7.
We're sure that you can't believe that your child is about to begin their final year at Ballykeel Primary School. Over the course of the year they will participate in lots of activities and routines to develop an independence for their own learning and preparations for school. We trust that you would also encourage greater responsibility at home too.
March-April
We continue what is a very busy term with lots of exciting visits and visitors, first and foremost being our visit to Woodhall. Mrs Hughes's class will go from Monday 16th to Wednesday 18th March, and Mrs Gregg's from Wednesday 18th to Friday 20th March. Please take careful note of the essential clothing/kit list and make sure your child is suitably kitted out for all of the different activities we will be doing.
Topics this term
In addition to Woodhall, we will be continuing in our partnership with St Brigid's as we learn more about the people and events connected to the Irish Famine. We hope to make further use of Fronter and Google Classroom, so be sure to have a look for updates.
In Maths we will be learning about ratio & proportion, number patterns & linear sequences, algebraic equations, calculator work and pie charts. We will also be continuing to take part in our practical maths investigations. While we are moving on to new topics, please ensure that you continue to work with your child on topics we have already covered to ensure retention. This may include consolidation of tables and number bonds, and conversion between fractions/decimals/percentages, units of measurement, etc.
In Literacy, we have been learning about the features of non-chronological reports and will be planning and writing our 'crime' report. Evidence has been gathered, notes have been taken and the culprit will soon be brought to justice! Keep youe eyes peeled for further updates via the website. We continue to focus on reading for understanding within our comprehension work. Please continue to support your child as readers for pleasure outside of school and encourage them to explore texts (digital or paper) about things that interest them. Not only will this inspire them to read as a fantastic hobby, but will greatly enhance their understanding in other areas.
January – February
This Term is still very busy, with lots of activities alongside our friends in St Brigid's. We have two outings this term. First up, we have INOV-8 at Cullybackey College on Friday 17 January, where the boys and girls will get to watch and participate in a science show, as well as taking part in a small workshop related to robotics, science or technology.
Of course we can't forget about our residential trip to Woodhall. Our classes will either go Monday 16 March – Wednesday 18 March or Wednesday 18 March to Friday 20 March. Information will be sent home closer to the time regarding what's happening; you will also receive an essential packing list. Remember to keep checking the website while we're away for photos and clips of our adventures!
Topics This Term:
Our World Around Us (WAU) theme this term will be 'The Irish Famine' and we will be linking with the P7 classes in St Brigid's for a number of fun and interesting activities based on our theme. Please remember to check diaries to see when we are going across to visit St Brigid's and please be in to school on time. We will be adding information, photos and chats to a Hunger Room on Fronter so have a look from home at what we have been doing.
In Maths we will be covering the topics of Area & Perimeter, Conversion of Units, Fractions, Decimals & Percentages and Algebra. We will be carrying out a number of problem solving investigations related to these topics. Check out the news on our page for photos of these activities. Remember that mental maths is important and keep practising table facts and number bonds with your child. We will be focusing on the terms 'factors' and 'multiples'.
Within Literacy we will be continuing our class novel, which is linked to our WAU theme and carrying out written and oral activities linked to the story. Shortly, we will begin an exciting piece of creative writing based on a 'crime' committed in our school, by one of our teachers. Children will investigate the crime, keeping a notebook of evidence, and compile a written report for the judge and jury!
Post-Primary Admissions
After Christmas, your child will bring home a post-primary admission form. This form should be completed at home and returned to school.
For more information on the transfer process, click here to visit the Education Authority's Website.
For entrance criteria for the local Ballymena schools, click into the Post Primary Admissions Criteria within the Class News section. Criteria for schools outside of the area can be found on the EA website above.
OPEN NIGHTS
Dunclug College
Wed 8 Jan 2020 at 7.30pm (Principal's Talk at 7pm)
Thu 9 Jan 2020 at 7.30pm (Principal's Talk at 7pm)
Ballymena Academy
Wed 8 Jan 2020, 7pm – 9pm (for pupils attending primary schools within 3 miles of Ballymena Academy)
Thu 9 Jan 2020, 7pm – 9pm (for pupils attending primary schools situated more than approximately 3 miles of Ballymena Academy)
Cambridge House Grammar School
Sat 18 Jan 2020, 9.30am – 1pm
Cullybackey College
Mon 20 Jan 2020 at 7.30pm
Tue 21 Jan 2020 at 7.30pm
Slemish Integrated College
Wed 22 Jan 2020 at 7.00pm
Thu 24 Jan 2020 at 7.00pm
November-December
This term will be a busy one for some of our children as they prepare to sit Transfer Tests. We wish them all the best in this and are proud of how hard they have worked, no matter what happens. All our local secondary and grammar schools will have Open Mornings/Nights in January so please keep an eye on this page for dates and for links to the criteria for each school as it is published.
Woodhall Residential Permission slips have gone home, please return deposits by Friday 29th November, if your child wishes to go. This is a great trip and we would recommend it to all pupils.
Topics this term:
We are finding out more about Space this term, from planets and stars to the space race and moon landings. If you have anything at home related to our topic, please send it in with your child for our display.
We will continue using VCOP strategies to improve our writing, and will produce a Info-graph based on the Apollo 11 Moon landing and some Winter poetry. In maths we will be looking at problem solving strategies and applying these to solve number and weight problems. We will also be looking at fractions, decimals and percentages.
August - October
This term will be a busy one for some of our children as they will sit their Transfer Test during Term 1. All our local secondary and grammar schools will have Open Mornings/Nights in January so please keep an eye on this page for dates and for links to the criteria for each schools as it is published. It's important that you plan to attend these open nights as it will give your child an idea of what goes on in these various schools!
Topics this term:
The P7s will be boldly going where no one has gone before! We will be finding out about Space this term, from planets and stars to the space race and moon landings. If you have anything at home related to our topic, please send it in with your child for our display.
We will be introducing VCOP (Vocabulary, Connectives, Openers & Punctuation) strategies to improve our writing. During creative writing we will be looking at structuring paragraphs with the aim of composing a piece of recount writing based on our topic. We will also write shorter pieces, including poetry, to help us to draft, edit and improve with increasing independence. In maths we will be looking at Place Value, revision of basic maths facts and operations, mental maths strategies and Problem Solving Strategies to help with a Height Investigation.
Please take time to revise table facts and number bonds with your child, to help benefit their number recall.
Our ICT task this term will be based on computer programming, where the children will learn to write codes using Scratch Jr.
What should your child have with them each day?
Your child should come fully prepared for all school activities each day. As a P7 pupil it is important that they begin to take responsibility for organising themselves on a daily basis. The following is an "essentials" list of the things they need and require every day:
Pencils
Rubber
Sharpener
30cm ruler
Pritt stick
Biro pens for marking (blue, black, red or green) – no gel pens please
Colouring pencils/crayons
Homework diary, reading book and any other homework (completed, checked and signed)
Healthy break / canteen money and a packed lunch / dinner money
Any notes that have been sent home, returned and signed
PE kit – this remains in school and is sent home every half term to be washed
Homework
Homework is an important part of your child's development and helps to reinforce the learning that has taken place during the school day. Each night your child will receive reading, spellings and mental maths / table facts. Along with this, your child will also receive a written homework two nights a week. This written work will cover aspects of literacy or numeracy covered in class during the day, or revisit learning that has already taken place in the earlier part of the week. On the nights there is no written homework, pupils are encouraged to revise their spellings and maths facts in preparation for the weekly Friday test, and spend time reading.
How can I help my child with homework?
Helping your child with their homework is a valued experience in their learning as it will help motivate and encourage them to continue to work at their best. There are a number of ways that this can be done; here are some suggestions:
Listen to them read / ask them some questions about their reading book
Ask them their spellings
Go through their maths facts
Ask them some questions about what they learned today
Check that their homework is completed and signed
Each night the homework diary, spelling book and written homework book should be signed before returning to school the next day. If you feel your child has found their homework a little tricky or requires a little extra help from the class teacher, please put a note in the homework diary for us to check the next day.
Whilst these are simple things, they will make all the difference to your child's learning.
Hopefully this page will you a greater insight into P7 life. We hope you have enjoyed looking through it. Come back soon and see what else we have been getting up to as the term continues.
Mrs Gregg & Mr Hughes
Latest Photographs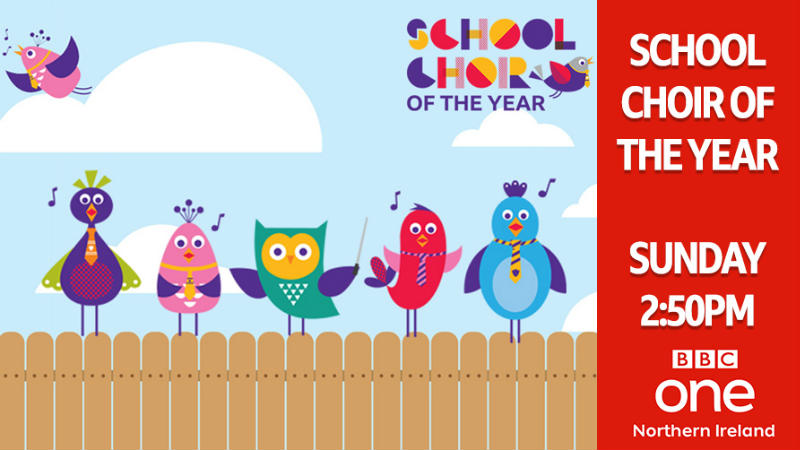 Ballykeel Primary School & Nursery Unit, 22 Crebilly Road Ballymena BT42 4DN 028 2565 3902