Mrs Muller
Dear parents, we are delighted to have the children all settled into a sound nursery routine, despite the extended half-term break. Your patience and assistance during the vital settling in period was invaluable, thank you. Unfortunately, we were not able to meet in person for the parent/teacher interviews but it was lovely to chat on the phone to discuss your child's early educational development. Please remember if you do have any worries, concerns or relevant information about your child, please contact us by email at any time throughout the year.
This is the second half of the first term and it is one of the most exciting, and busiest times in Ballykeel Nursery Unit! This is a perfect time to start feeling festive and share in the children's excitement which surrounds the run up to Christmas. We have lots of activities taking place in nursery!
As well as other subjects which may emerge from the children's interests, we will plan to look at the following themes:
Over the next few weeks we will continue to talk about and investigate signs of autumn; colours observed in the outdoor environments, changes in weather, and items and objects which can be found at this time of year. The children will be using autumnal colours: brown, yellow, red and orange, in their creative activities and will share their experiences to contribute to the learning and understanding of autumn. We will continue to talk about preparing for winter in autumn (both people and animals). We will be sharing a selection of stories about woodland and various animals with the children and will also talk and learn about migration and hibernation. We will look at the changes in the weather and the need to dress appropriately according to these changes (coat, hat, gloves, etc. as the weather gets colder and waterproofs for wet weather).
In November and December, we will be talking about Christmas! We will continue to look at the change in the weather - you never know, we may even see some frost/snow! We will talk about the Christmas story and the meaning of Christmas. Sadly this year there will not be a Christmas nativity performance but we hope to entertain you with some festive videos!
Please ensure that all your child's belongings are clearly marked with their name or initials. Please also check their name is clear on the label after each wash as they do fade. Although we do try, nursery staff cannot take responsibility for misplaced uniforms, etc.
PLEASE NOTE: Online applications for admission to pre-school and to primary school for the 2020/2021 school year will open in January.
Please see: www.eani.org.uk/admissions-guides from the end of November for more information on how to apply.
We would like to remind carers that all children should be in school by 9.15am and can be collected from 1.15pm - 1.30pm. (If you will be late in leaving your child to school or need to collect them before 1.15pm please speak to a member of the nursery Team).
Latest Photographs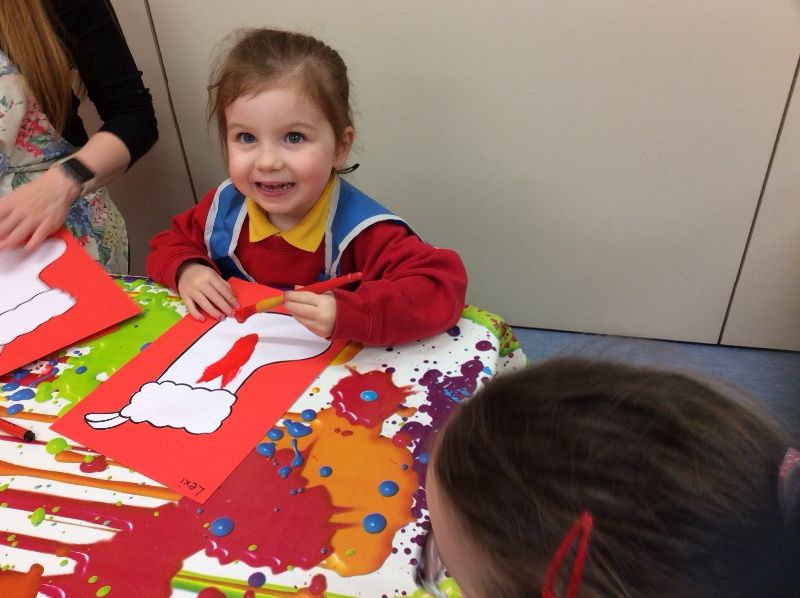 Ballykeel Primary School & Nursery Unit, 22 Crebilly Road Ballymena BT42 4DN 028 2565 3902