Year 6
Welcome to the P6 class page!
Welcome back!! We know the start of the year can be nerve-wracking, particularly given the current circumstances, but rest assured that we are excited about getting to know you all and we are here to help you in whatever way we can. We hope everyone enjoys their year and learns plenty along the way.
This page will give you an idea of what we'll be getting up to in P6. Click on the P6 Photo Gallery for a taste of what we've been learning!
There are two P6 classes in the 2020/2021 year. The P6 teachers are Mrs McKeegan (P6SM) and Mr Fisher (P6JF).
THINGS TO REMEMBER!
What should your child bring with them on the first day of school? (Please note these items will remain in school)
Pencils
Rubber
Sharpener
30cm ruler
Pritt stick
Biro pens for marking (blue, black, red or green) - no gel pens please
A 12 pack of colouring pencils
Healthy break and a packed lunch
PE kit consisting of a pair of trainers and jogging bottoms/leggings - this remains in school.
Homework
Our homework routine is now well established and will remain the same until further notice.
NOVEMBER-DECEMBER
The boys and girls in P6 have been working extremely hard in the first few months of Primary 6 and it's hard to believe that Christmas will soon be upon us.
Language and Literacy
Arrangements have been made for A.R. to begin again within individual classes. The school has purchased a lot of exciting new titles for the children to enjoy. All books will remain in their class bubble but please encourage your child to continue to read their reading book daily at home.
In our comprehension work we will be learning how to clarify - or work out what unfamiliar words or phrases mean - in our reading books, library books and in other pieces of text we read in school. This will link in with our new spelling format as we continue to encourage the children to learn the meaning of their spellings as well as how to spell them. Comprehension work allows us to improve our understanding of the things we read.
In grammar work, we will be focusing on the adjectives, verbs and adverbs we use in everyday speech and using these to make our writing more interesting. We'll be learning how to correct common grammar and punctuation errors within pieces of writing. In creative writing, we will be planning and creating our very own Jack and the Beanstalk comic strip, combining our summarising and drawing skills to full effect! We will also have some creative writing based around the theme of Christmas!
Mathematics and Numeracy
In P6, the number focus will be fractions. We will solve problems involving equivalent fractions, improper fractions and mixed numbers. We will be simplifying fractions and using the highest common factor to help us order and compare fractions. Using our multiplication and division skills, we will also calculate fractions of numbers.
Times Tables
Having begun work on division and fractions it has become apparent that many children are still struggling with quick recall of times tables facts. Therefore, we will be having a times tables blitz over the next few weeks. Parents could help by going over tables with your child, a little every day. This could be orally or an app on your phone or tablet. It really makes a huge difference to their confidence and ability in maths.
https://www.theschoolrun.com/best-times-tables-apps-for-kids
https://www.timestables.co.uk/games/
https://www.topmarks.co.uk/maths-games/hit-the-button
World Around Us
Having learned about the planning, building and setting sail of the Titanic, we will be learning about some of the passengers and crew members who were aboard. We will be finding out their stories and sharing these 'in character' – with some shocking revelations to be made! We will then focus on the events that took place on night of the sinking, investigate the phenomenon of icebergs, and research the different perspectives relating to who was to blame for the sinking of this great ship.
What your child will learn during:
SEPTEMBER-OCTOBER
PDMU
Due to the long break from school, we appreciate that some of the children may find it difficult settling back into the new 'normal' routine. We therefore plan to give the children lots of opportunities to talk about their thoughts, feelings and emotions relating to their experiences over the past 5 months. As part of this Action Mental Health will be running workshops entitled 'Healthy Me'. More information will follow.
MATHS
In the first half term of P6 we intend to cover Place Value, Mental Maths strategies, basic adding and subtraction, common fractions and Problem Solving. The pupils will be expected to know up to 5 digits and should become confident rounding, manipulating and working with large numbers. We will study, practice and discuss lots of different strategies to assist the children with mental arithmetic. It's always useful for the pupils to talk about their method of working out a calculation as it helps to develop their own understanding. Fractions is a fundamental area within the P6 maths curriculum and we like to cover this thoroughly early on in the year. It is an area we will revisit consistently throughout the year.
ENGLISH
Pupils in P6 will cover many different aspects of English within Reading, Writing and Talking and Listening.
Comprehension work allows us to improve our understanding of the things we read. In our comprehension work we will be learning how to clarify - or work out what unfamiliar words or phrases mean - in our reading books, library books and in other pieces of text we read in school. We will also be learning how to summarise pieces of text so that we capture the main idea.
Grammar activities will include reinforcing their knowledge of alphabetical order, different types of nouns and verbs.
Within Creative Writing this half term we will be writing of a piece called 'My Favourite' which gives the children the opportunity to write about something they love doing. We will also be writing postcards and learning about the style and format of limericks, among other things.
W.A.U.
Our theme for the first term is 'Unsinkable'. This proves to be a real favourite for both staff and pupils as the majority of the theme focuses round learning about the Titanic. We will study the planning, designing, building and setting sail of the famous local ship. The children will use a range of resources to assist with their learning including a large range of information books and websites located in a specially designed Fronter room.
Please remember the best way to contact Mr Fisher or Mrs McKeegan is by using the following email addresses:
P6JF - bpsp6jf@gmail.com
P6SM - bpsp6sm@gmail.com
We look forward to getting to know you and your child better over the year. Please don't hesitate to get in touch if you have any worries, questions or concerns.
Mrs McKeegan and Mr Fisher
Latest Photographs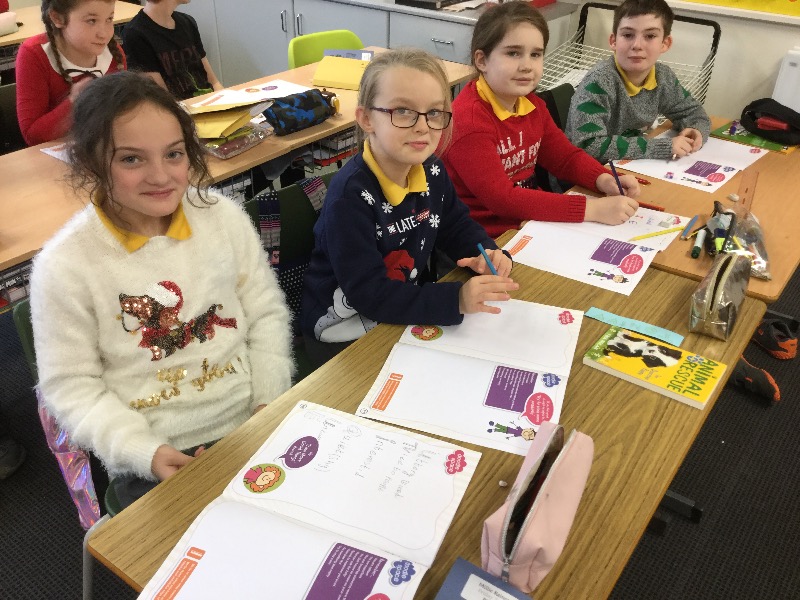 Ballykeel Primary School & Nursery Unit, 22 Crebilly Road Ballymena BT42 4DN 028 2565 3902