Mrs Young Additional Support
March 2022
I hope you all enjoyed half-term.It's hard to believe it's Spring already.
This term the children will be continuing to learn their times tables in Numeracy. Already they've learned x2 and x10. They will move onto X5. There will be links sent on Seesaw for you to practise these with your child at home- remember -practice makes perfect!
In numeracy we will be learning how to use money and complete money problems. Why not set up a 'shop' in your own house? Start with amounts up to 20p then extend it to 50p then eventually £1.00.
We will also be doing some 'time'work so why not get in some practice now at reading both an analogue and digital clock-start with o'clock, half past ; quarter past and quarter to. We will then move on to 5 minute intervals.
In literacy we will be doing lots of writing connected to our WAU topic of World War 2. We will be pretending to be an evacuee and write a story based on the experience of an evacuee child during WW2.
Keep up the work with the AR books- the children are collecting lots of AR points which is great.
Remember that time spent with your child is time well spent.
Mrs Young
January 2022
Happy New Year everyone!
It's great to see all the children back in school after Christmas and it's going to be another busy term.
In Numeracy the children will be starting their tables.(They are very excited about this!) We will start with x2 , making sets eg 2x6 is 2 sets of 6.
This will follow with x10 and x5
The children will gets lots of practical experience but you can help by practising their tables at home too. Please look out for website links to games which will help to reinforce these also.
We will also be looking at symmetry in shapes; looking at charts and finding information from them; patterns in numbers and problem solving in lots of different areas of maths.
In Literacy, we will be continuing on with a different phonics sound weekly. Try to encourage your child to identify these sounds in their reading books at home too.
Keep up the good work with the reading - we are working at fluency and expression. Why not try to re-read a page in your reading book and add lots of expression?
In creative writing we will begin by writing a 'superhero' story, thinking about their super powers, super gadgets and costume. The children will then create their own Superhero adventure story.
Grammar will include topics such as plurals, using commas and homophones (eg hare/hair; sell/cell; see/sea; beach/beech) Perhaps you could point these out in books at home too.
Please keep an eye on you Seesaw messages to see what we are getting up to in class.
Thank you again for your continued support.
Mrs Young
September 2021
Welcome back P4s.
It is lovely to see all the children back in school and well settled back into the routine of school already.
This term starts with the theme 'Hey, hey, look at me!' and there will be lots of opportunities for learning through numeracy, literacy and World Around Us as we look at ourselves, what we like to do; our similarities and differences; how our bodies work and lots, lots more!
In numeracy the children will be starting the term by re-visiting the terms 'odd and even'. We will also be practicing our number bonds and identifying patterns within the 100 square. The children will have opportunities to order numbers correctly and identify numbers 'before' and 'after' too.
In literacy, the children will be given lots of opportunities for writing about themselves ; their hobbies; likes and dislikes amongst lots of other activities.
What you need to bring each day
-pencil case with 2 pencils and rubber
-Pritt stick
-30cm ruler
-colouring pencils
Please provide your child with a plastic zipped folder which can be used to hold their books for each day - reading book and record; spelling booklet; homework diary sheets (pouches will be provided for these) and written homework books as necessary.
Homework routines
Homework is an important part of your child's development and is a great way for you to encourage and support them in reinforcing what they have been taught in school. It is important to complete the homework sheet each night and it will also provide you with reminders about PE; events etc. It is important that this is signed each night too once it has been checked and the spellings/tables, written homework (Monday and Wednesday) and reading has been completed.
Your child has also been given a reading record -please use this book to comment on how they did at home. It's important that they read regularly in order to build confidence and fluency.
In P4, spellings will be completed in a new spelling booklet. The children will have practiced the spellings in class. Each night, copy the spellings neatly into the booklet so that each word has been written x5 then ask your child to spell each word correctly and when you're happy that they are confident, sign it( beside Parent's signature)
I hope you enjoy looking at the photos which follow and remember to check Miss Kane's page too for lots more ideas and photographs.
Mrs Young
Latest Photographs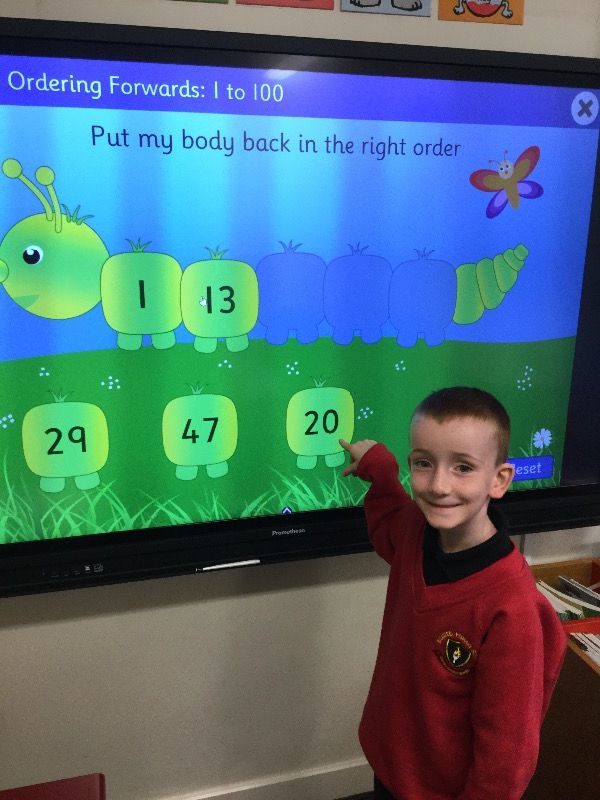 Ballykeel Primary School & Nursery Unit, 22 Crebilly Road Ballymena BT42 4DN 028 2565 3902