Year 1
Welcome to P1!
Our teachers are Miss McGlaughlin and Mrs Henry.
Our classroom assistants are Mrs McQuillan and Mrs Ewart.
Important Dates:
Back to school: Monday 24th February
St Brigid's Trip: Tuesday 3rd March
Nurse visits P1 children in March on different dates
Apparatus Week: 9th-13th March
Focus Week on Coding: 30th March - 3rd April
Easter Assembly: 1st April
Finish for Easter: 8th April at 12 noon
March - April
It's hard to believe your child is now more than halfway through their year in Primary One!
We have really noticed how much the children have come along since they started school in September – their work is improving day by day. We're sure you're amazed at what they can do!
Thank you for all the effort you have put in at home and please continue to keep this up.
Old McDonald Had a Farm
Our theme until Easter is "Old McDonald had a farm". We will be learning about the role of a farmer, baby animals and their mothers, where our food comes from and we will be looking out for signs of Spring!
A farmer came to talk to us and we learnt lots about the farm and even met some of his animals! Ask your child about this visit. Don't forget to send in any farm toys you have at home- the children love setting these out for display in our classrooms.
We Love Literacy!
We are working on Grammar in P1.
This is what the children will be learning – it is really just the "first steps" of good grammar.
Holding a book correctly
Holding a pencil correctly
Knowing to start reading and writing from the left hand side
Correct letter formation
Putting a space between each word
Ensure the sentence makes sense
Understand what a full stop, question mark and exclamation mark means.
Library and Reading Books
We have noticed that a lot of library and reading books have not been returned recently. We keep track of books that are sent home, therefore we know which books still need to be returned. Please have a good look around your own house and any other homes your child might be in after school.
Please return these books ASAP!
All outstanding library and reading books that are not returned will incur a £5.00 charge per book.
Mad about Maths
In Numeracy we will be learning to count and write the numbers 10 – 15. Help your child count forwards and backwards – they love to pretend a rocket is blasting off after zero!
If you are baking at home, get your child to help weigh out the ingredients – we have been doing this in school recently, using the words heavier and lighter.
We will be learning about money very soon. To give your child a head start, why not teach them to recognise each coin. However, we will only be using 1p coins to make our "purchases" in school.
** We would appreciate it if all parents could please send in ten 1p coins – watch out for the money bag to put these in. It is much more beneficial to use real coins when teaching money **
Have a lovely Easter Holiday!
Let's hope the weather is good so the children can get outside and be active – too much screen time is not good for them!
Why not visit the park, fly a kite, go on a Spring walk and talk about what you see, wrap up warm and go on a trip to the beach, or get out the bicycles!
January - February
Happy New Year! We hope you all enjoyed your Christmas holidays and Santa came to the boys and girls!
Our theme until February half term is "Helping Hands". We are going to be learning about people who help us. We will learn about the roles of a teacher, the school cook, a fire fighter, a doctor and nurse and the police. We will have some visitors in the classroom and we will act out the various roles at playtime.
Maybe you could point out some people who help in the community when you're out and about with your child?
Reading is going well! We are very encouraged by the children's progress, thank you for helping with this at home!
Just keep practising at home each night. Make sure your child recognises the key words in each book e.g. and, a, the, is, it, had.
We will be visiting the school library, where your child will get to choose one library book per week. Remember to take good care of these and return them promptly. We're sure your child would love you to take some time to enjoy the book with them.
Please note: all missing books, whether reading books or library books will cost £5.
In Numeracy, we will be learning how to write the numbers 5 – 10. Again, we use the little rhymes to help the children remember the correct formation.
Keep practising these at home – we always say that practice makes perfect!
5 - down and around then a flag on high, that's the way we make a 5.
6 – down we go and make a loop, number 6 makes a hoop.
7 – across the sky and down from heaven, that's the way we make a 7
8 – make a 's' and do not wait, that's the way we make an 8
9 – make a loop and then a line, that's the way we make a 9
10 – first a one, then a zero, number 10 is our hero!
November- December
We are really into the swing of things in P1 now! We can't believe we will soon be starting the countdown to Christmas!
This will be a busy half term for your child as we commence Jolly Phonics, reading books and begin to practise for the Christmas Nativity…
Jolly Phonics
Please give your child as much support as possible with Jolly Phonics. Knowing the sound each letter makes and being able to write it correctly is so important. Without learning these skills, your child will struggle with learning to read and write. Please check the newsletter for ideas and don't forget to do the homeworks each night!
Reading Books
The children feel so "grown up" now they've got their reading books. Don't forget the importance of hearing your child read every night – but also read some bedtime stories for enjoyment!
Numeracy
We have been learning the numbers 1-5 and are ready to move on to 6-10. Please keep practising 1-5 at home. We have been thinking about 2D shapes – circle, triangle, square and rectangle. Why not have a look for these around your house?
Christmas is coming!
It's an exciting time of the year for the children!
Our Nativity this year is "The Nativity". All children will be taking part – either as a character, in the band, or in the choir. All parents and family members are invited to the performances on either the 10th or 11th of December. Please plan to attend – it will help you get into the festive spirit!
Why not write a letter to Santa at home – cutting toys out of catalogues is a great way of practising scissor skills!
September - October
Our focus for this half term is settling the children into their new school routines and laying the foundations for their learning.
It is important that your child comes to school well-prepared each day.
Please ensure your child has the following items with them every day:
- School bag
- Break time snack - One item only. (Healthy eating policy - no cereal bars or chocolate yogurts allowed)
- Lunch box or dinner money (money is only collected on a Monday)
- Coat
- Notes folder. Please remove all notes you have read.
- Homework Folder and books
Remember to keep an eye on the information windows of our classroom and your child's note folder as we aim to keep you informed about what's going on.
Please ensure your child has brought in:
- a glue stick
- a box of tissues and a bottle of anti-bacterial handgel (for use without water)
- school fund (£5 per child / £8 per family)
- P.E. shoes in a P.E. bag
Homework:
Home Learning books will be given out every Monday and collected on a Thursday morning and please remember that homeworks must be signed!
We love Literacy!
We are learning to hold our pencils correctly – with froggy fingers!! Please ask us about this if you're unsure. We have been practising writing our names, please make sure you practise this regularly at home!
As we prepare to start reading books after the Halloween Holidays, now is a perfect time to enjoy reading some stories together at home. Help your child develop a love of reading by taking time to talk about what's happening, the characters and what might happen next…
Mad About Maths!
We are learning all of the colours to prepare us for sorting and pattern work.
Between now and half term, we will be learning the numbers 1-5. We should be able to recognise these numerals, count up to 5 objects and write the numbers. The following rhymes may help your child learn to form the numbers correctly…
1 – start at the top and down we run, that's the way we make a 1
2 – round and back on a railway track, two, two, two
3 – round a tree and round a tree, that's the way we make a 3
4 – down and over and down some more, that's the way we make a 4
5 – down and around and a flag on high, that's the way we make a 5
A Time to Rhyme
In our theme we are learning familiar nursery rhymes. These will help us learn about many aspects of Literacy, life in the past and our world.
The nursery rhymes we will learn are:
- Baa Baa Black Sheep
- Hickory Dickory Dock
- Wee Willie Winkie
- Humpty Dumpty
- Incy Wincy Spider
- Twinkle Twinkle Little Star
- Hey Diddle Diddle
Don't forget to bring in any nursery rhyme related items you may have at home e.g. dressing up, books, CDs, posters, DVDs
Our Friends in St. Brigid's PS!
We are happy to announce that we have been able to secure enough funding this year to continue our Faces and Spaces programme with St. Brigid's PS, Ballymena. We will be meeting with them for different activities throughout the year. Dates for trips will be confirmed.
The trips will be free of charge and we will be going by bus to St. Brigid's for some activities and some activities will be held in Ballykeel PS.
Children should wear their school uniform for each activity, bring their snack with them as usual and they will return to school in time for their lunch each time.
We are very excited about this project and would ask you, as the first educators of your children, for your support in this initiative.
The P1 dates with St Brigid's PS:
8th October, 12th November, 11th February, 3rd March, 5th May
Thank you for your ongoing support with your child's education.
Latest Photographs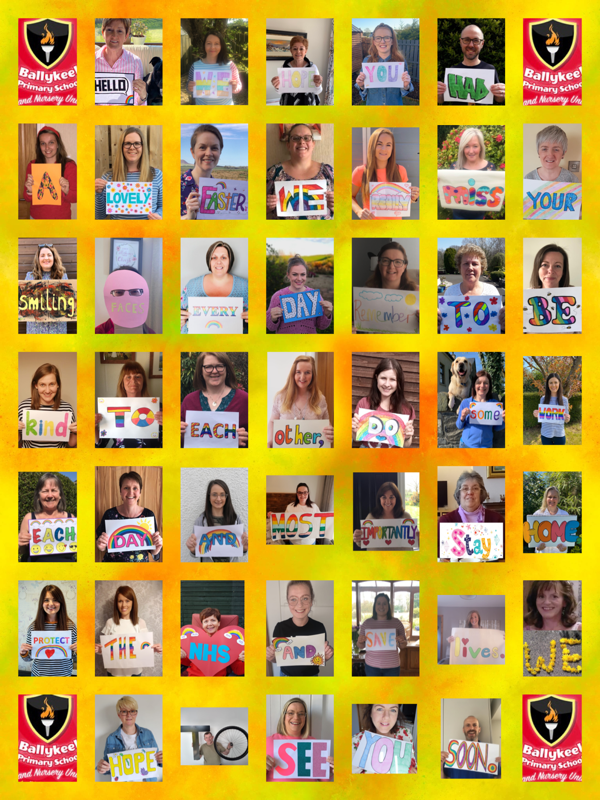 Ballykeel Primary School & Nursery Unit, 22 Crebilly Road Ballymena BT42 4DN 028 2565 3902