CRED Stand for Community Relations, Equality and Diversity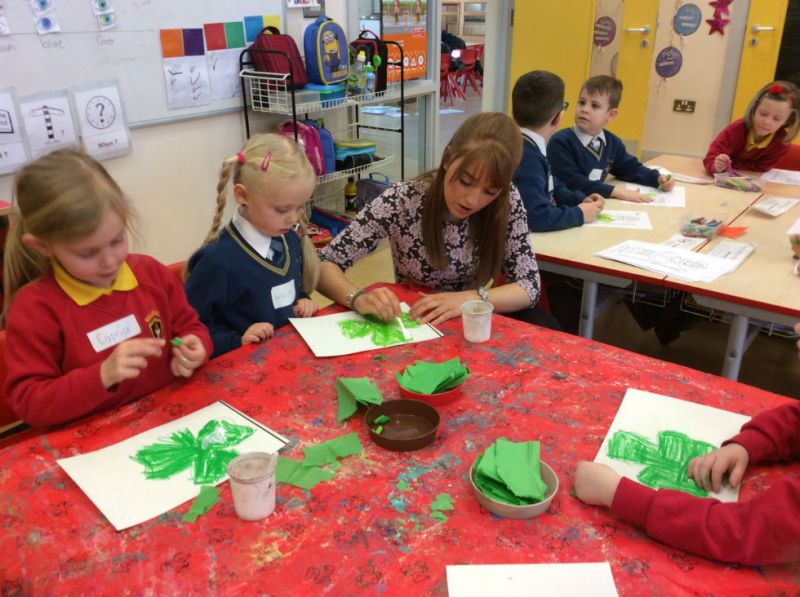 This is our joint school council.
Our Friends in St. Brigid's
Over the past five years Ballykeel PS have been working very closely with the staff and pupils from St. Brigid's PS. We have participated in a range of different programmes with St. Brigid's and this year is no different! Most of the shared work we do with St. Brigid's relies upon us receiving funding and we are delighted that we have secured funding for the incoming year to do such work. The funding will enable us to pay for projects, transport and trips. Every class from P1-P7 will meet classes from St. Brigid's PS at different stages throughout the year, so please keep an eye out for more information in due course and on the class pages and on the Bugle.
There are photos here from activities this year and from years previous.
Activities with our friends in St Brigid's Primary School:
Keep an eye on the Bugle and class notes for St Brigid's dates this term.
P1, P2, P3 all have activities in term 1.
P5, P6, P7 will all have activities in term 2.
P4 will have activities in term 3.
Primary 1 and Primary 2:
P1 and P2 pupils meet up with their friends in St Brigid's approximately 6 times a year. They have shared classes together; circle times, play based learning, learning about Polish and Chinese traditions and the story of Saint Patrick. Children also bring along their friends Tom, Jim, Kim, Bukola, Jenny, Kathleen and Lucy. These are puppets that the children in both schools are introduced to each year and they are something that all the children have in common.
Primary 3- Primary 7:
Pupils in P3-P7 take part in shared activities focused on pupils getting to know their local community. Through World Around Us themes the pupils have the opportunity to explore the similarities and differences between the two main traditions by studying and visiting local landmarks, which are of significance in their town. Last year there were trips to Portglenone Forest, beaches at the North Coast and Slemish! This year they will continue to study their World Around Us themes together, taking part in shared classes and shared trips.
Primary 6:
Our P6 children take part in basketball sessions with the P6 children from St Brigid's. Each class has a term of basketball with trained coaches. They also take part in healthy eating and well- being lessons. The children have gained so much from the Basketball Twinning Programme, not only learning the skills involved in playing basketball but also meeting new people.
Keep an eye on the class pages for more Shared Ed news.
Shared Council:
We have a Shared School Council that meets once per term to help plan and organise events between our school. Our Shared Council this year is:
P4- Lexi McPeake
P5- Eloise Rainey
P6- Cassie Cairns
P7- Corey Black
Ballykeel Primary School & Nursery Unit, 22 Crebilly Road Ballymena BT42 4DN 028 2565 3902